Resources
→
Export
•
4 mins read
How to Export Twitter Bookmarks to Google Sheets
Effortlessly Move Twitter Bookmarks to Google Sheets with Tweetsmash: How-to Guide
For many professionals – data analysts, researchers, journalists, and content marketers among others – Google Sheets serves as the go-to tool for data organization, manipulation, and analysis. If you find yourself often in the corridors of rows and columns, capturing insights, or visualizing data trends, then merging Twitter content into this familiar environment can vastly streamline your workflow. By bringing your Twitter bookmarks directly into Google Sheets with the aid of Tweetsmash, you don't just integrate two platforms; you blend the spontaneity of Twitter with the structured efficiency of Sheets. This guide delineates every step of this game-changing integration.
Why Exporting to Google Sheets with Tweetsmash Stands Out
One-Time Setup: Once linked, the automation does the heavy lifting.
Dual Integration Methods: Opt for a quick automatic integration or a manual approach tailored for the privacy-conscious.
No Middlemen: Bypass the CSV hassle. Transition your bookmarks directly into Google Sheets.
Fully Automated Sync: Continuous updates ensure your Google Sheet stays current with your Twitter activity.
Steps to Export Twitter Bookmarks to Google Sheets
1. Get Started with Tweetsmash
Head over to the official Tweetsmash website.
Register here to set up your new account.
2. Link your Twitter Profile
Hit the "Connect Twitter" button to grant Tweetsmash permission to your Twitter details. Your privacy is paramount to us at Tweetsmash, and we ensure your data remains protected.
Once connected, Tweetsmash will swiftly gather all your existing Twitter bookmarks.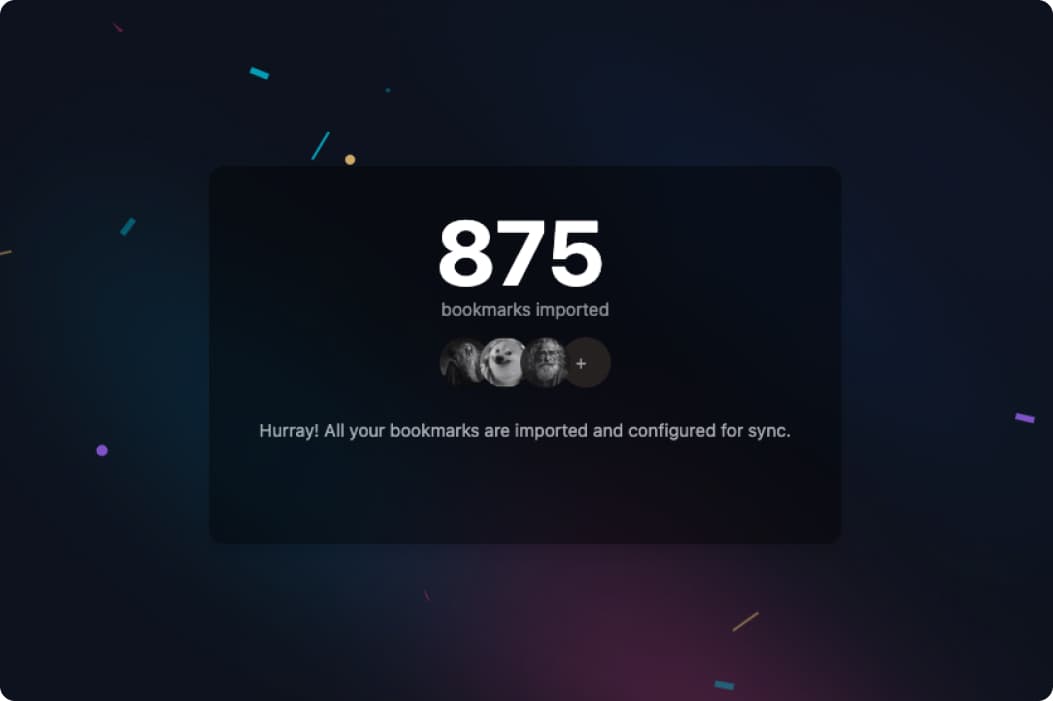 3. Navigate to Integration Settings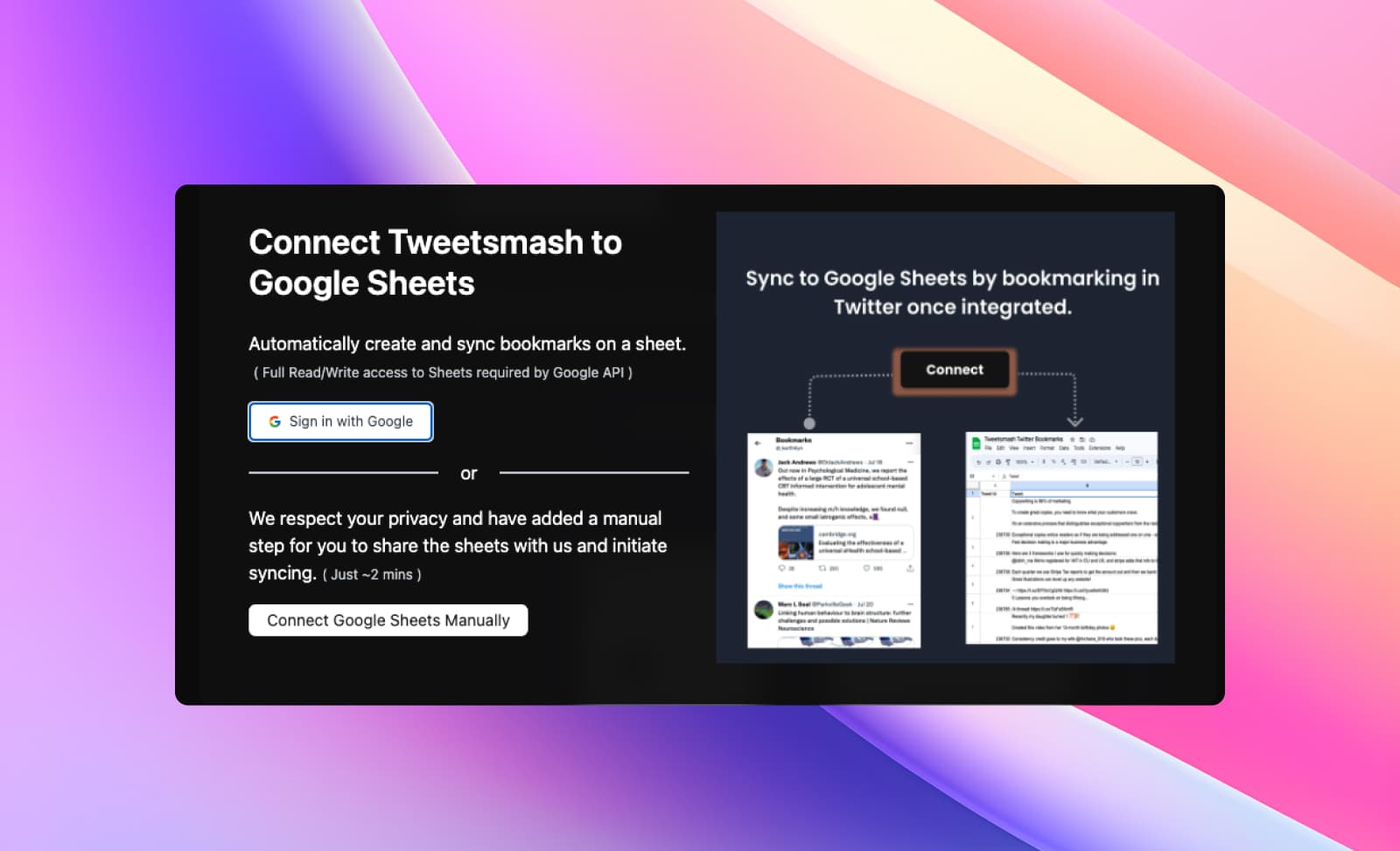 4. Choose Your Connection Method - Automatic or Manual
Automatic Connection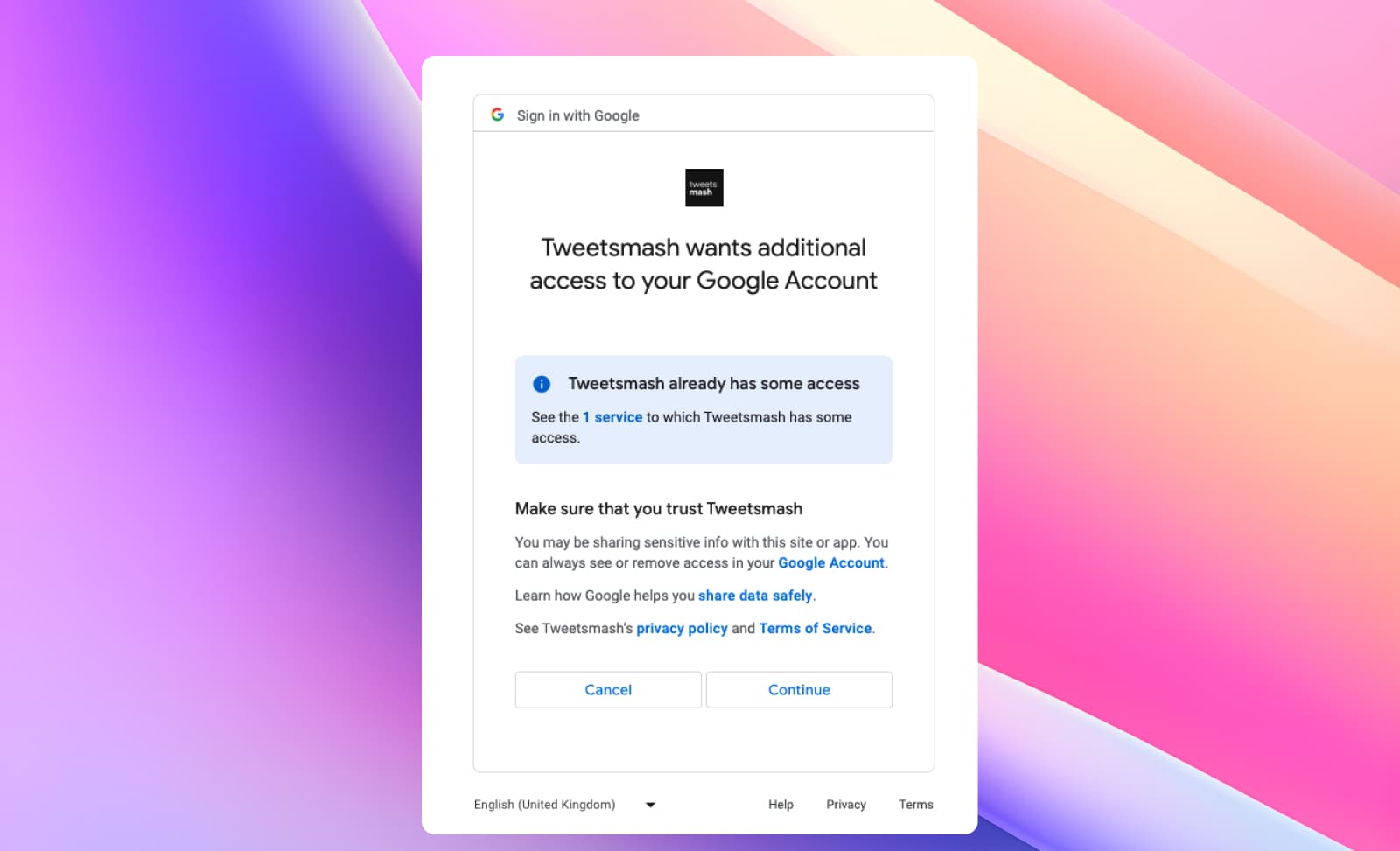 Click on "Connect Google Sheets Automatically".
Sign in with your Google account and grant the necessary permissions. Your Google Sheets are now linked with Tweetsmash.
Manual Connection (Privacy-Focused)
Click on "Connect Google Sheets Manually".
Duplicate the provided sheet template.
Copy the Tweetsmash account email.
Share the sheet with the copied email, granting editor access.
Return to Tweetsmash, verify access, and initiate the connection.
5. Review Your Exported Bookmarks in Google Sheets
After integrating, Tweetsmash will begin the exporting process.
Once done, click on 'View in Sheets'. Your Twitter bookmarks will be available in Google Sheets, with links to media, and bookmark folder names neatly organized.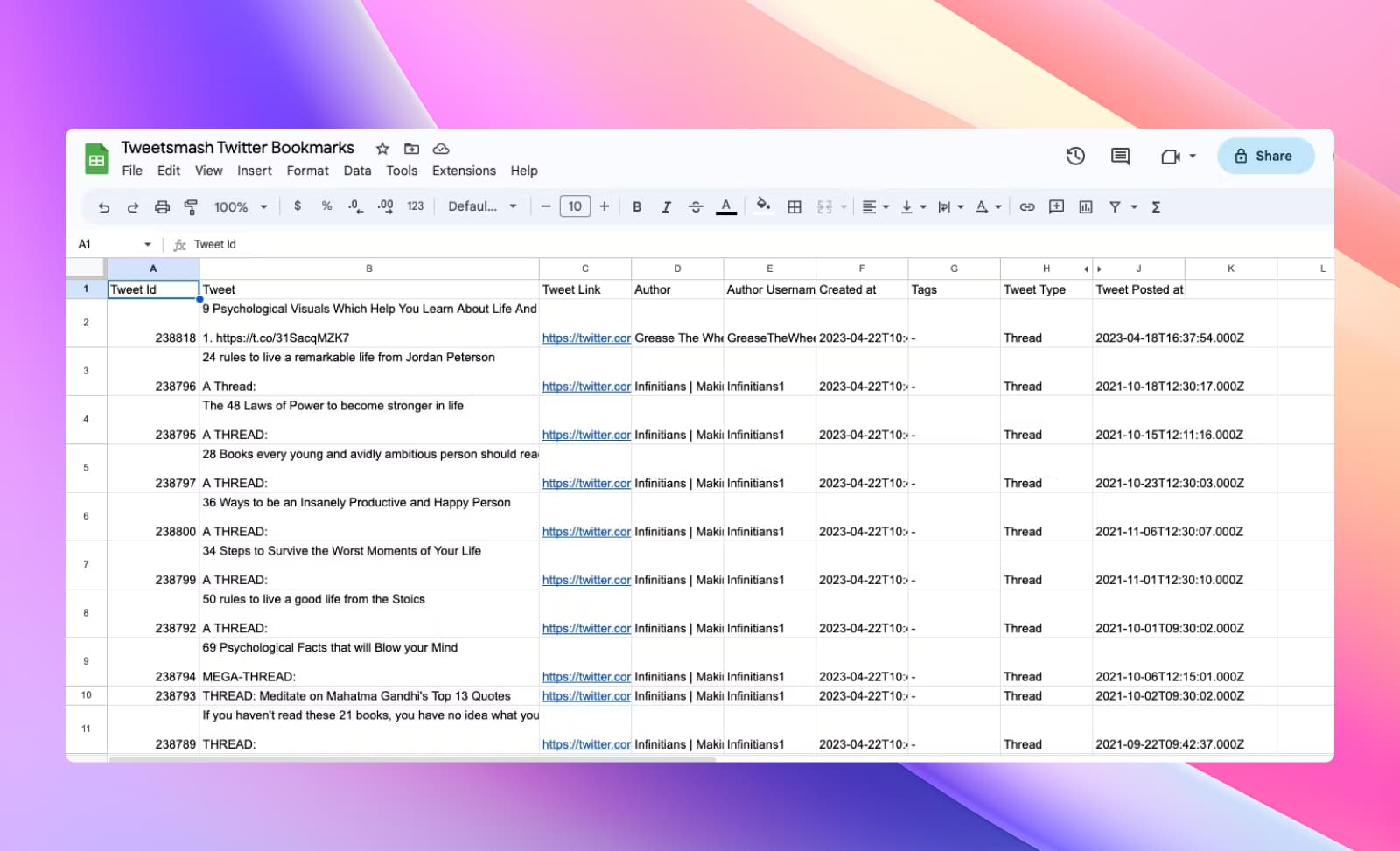 Auto-Sync: The Gold Standard in Bookmark Management
No more manual exports. No overlooked bookmarks. Every new Twitter bookmark auto-populates in your linked Google Sheet, ensuring you're always in sync and up-to-date.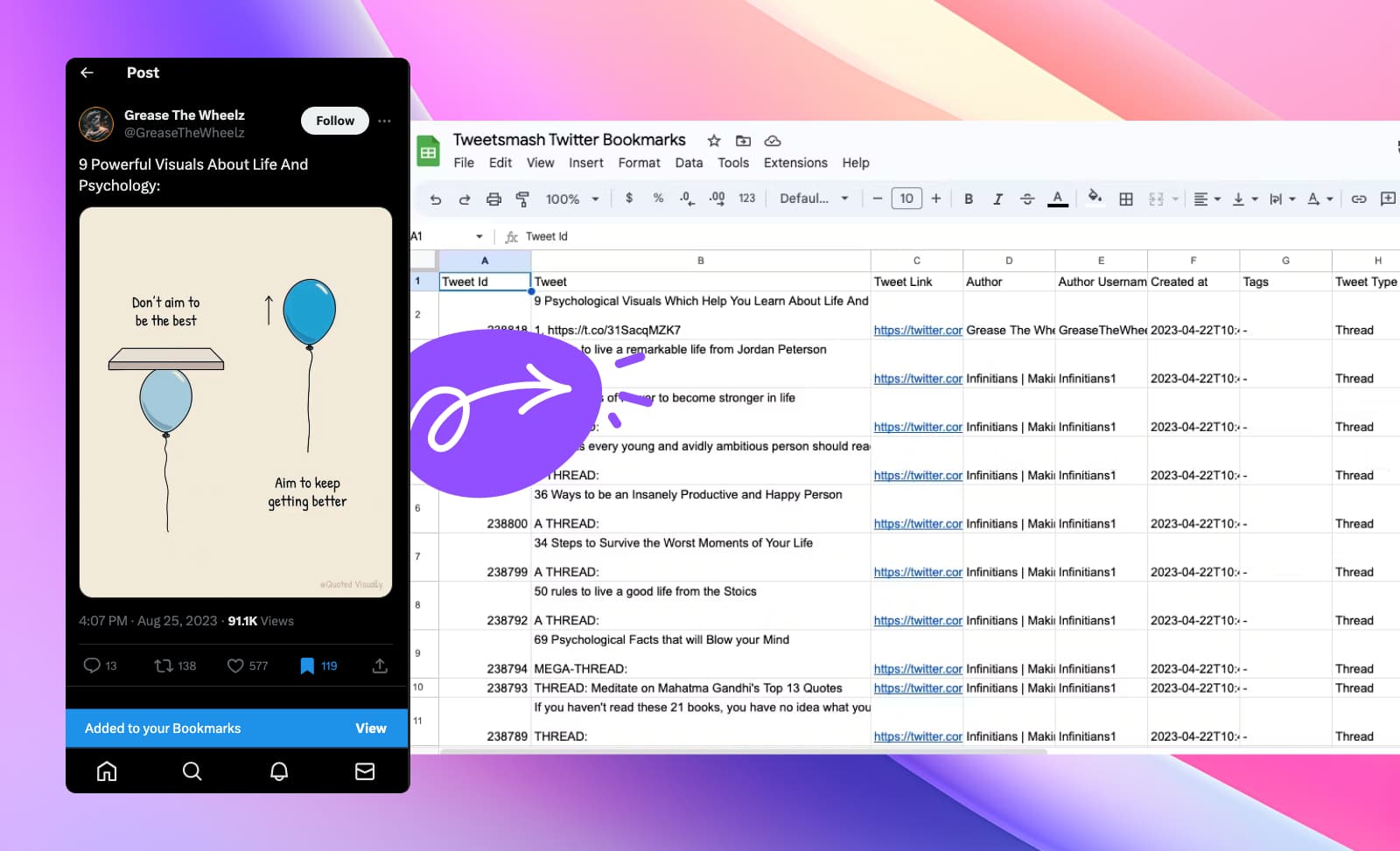 Advanced Feature: Auto-Export to Multiple Google Sheets
For data analysts and strategists, seamless export of organized content to analytical tools is paramount. The Auto-Export feature is here to align your bookmark management with Google Sheets effortlessly.
Use Case: Market Analyst – Emma Johnson
Emma is a market analyst who keeps a pulse on consumer sentiment and market trends. Twitter serves as a rich resource for real-time opinions and updates.
Without Auto-Export: Emma's bookmarks remain entangled on Twitter, demanding manual exporting and sorting before analysis on Google Sheets.
With Auto-Export:

Author Segregation: Emma can channel tweets from market influencers directly into designated Google Sheets. Each author gets a separate sheet, making trend analysis more streamlined.
Keyword Directing: Bookmarked tweets with keywords like "market trend," "consumer sentiment," or specific brands are auto-directed into respective sheets.
Tag Association: Tweets carrying multiple tags find their way into all corresponding sheets. A tweet tagged both #StockMarket and #ConsumerTrends would populate in both related sheets, ensuring Emma captures a holistic view.
This feature not only eradicates the manual hustle of exporting but also ensures that every piece of valuable insight is well-placed and ready for analysis. Emma can now dive straight into analysis, saving time and enhancing the accuracy of her market insights.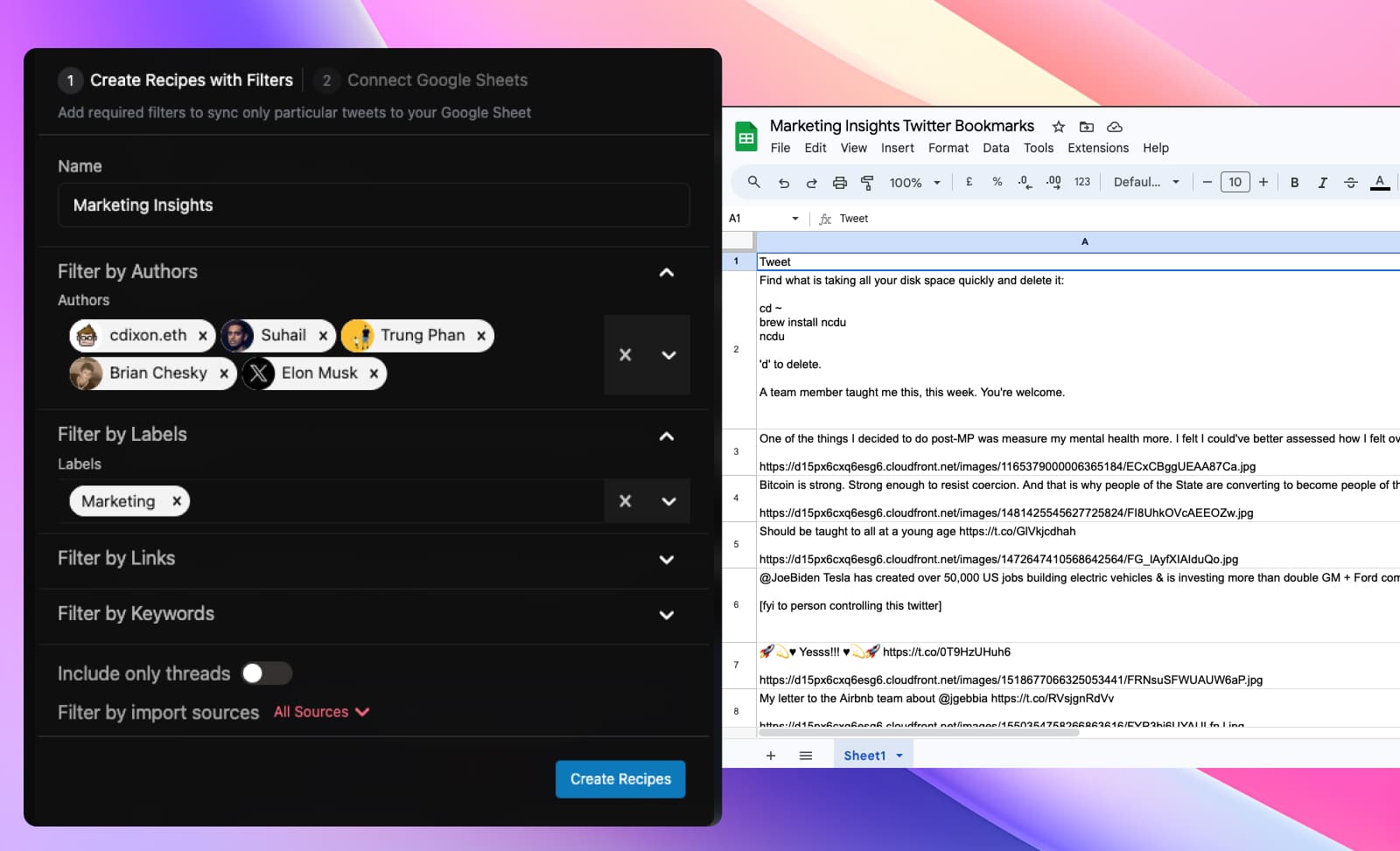 Conclusion
Harnessing the power of Tweetsmash, integrating your Twitter bookmarks with Google Sheets has never been more straightforward. This seamless process not only enhances your data organization but also complements your workflow, especially if you're a fan of spreadsheets. Gone are the days of manual data transfers. With Tweetsmash, you're just a few clicks away from having all your bookmarks systematically structured in Google Sheets. Dive in, and explore a more efficient way to manage your Twitter data!