Resources
→
Export
•
4 mins read
How to Export Twitter Bookmarks to Notion
Seamlessly Export Twitter Bookmarks to Notion with Tweetsmash: A Comprehensive Guide
Twitter has become more than just a social platform; for many, it's a treasure trove of useful information, insights, and content worth revisiting. But how do you ensure these valuable bookmarks don't get lost in the Twitter abyss? The solution is a seamless integration with Notion using Tweetsmash. This guide will walk you through the process, step-by-step.
Why Choose Our Method?
No Developer Knowledge Needed: Unlike other tutorials that require a plethora of API keys and technical know-how, our method is straightforward.
Quick and Efficient: From start to finish, the process takes less than 5 minutes.
Fully Automated: Once set up, the system is entirely hands-off. Your future bookmarks are automatically synced, ensuring you never miss out.
Easy to Setup: Our step-by-step guide ensures that even a complete beginner can integrate and export bookmarks without any hiccups.
Steps for Basic Export
1. Sign up with Tweetsmash
Navigate to Tweetsmash's website.
Sign up and create your account.
2. Integrate your Twitter Account
Click "Connect Twitter" to allow Tweetsmash to securely access to your Twitter profile. Rest assured, Tweetsmash prioritizes your privacy and securely handles your account credentials.
Upon authorization, all your current Twitter bookmarks will be imported into Tweetsmash.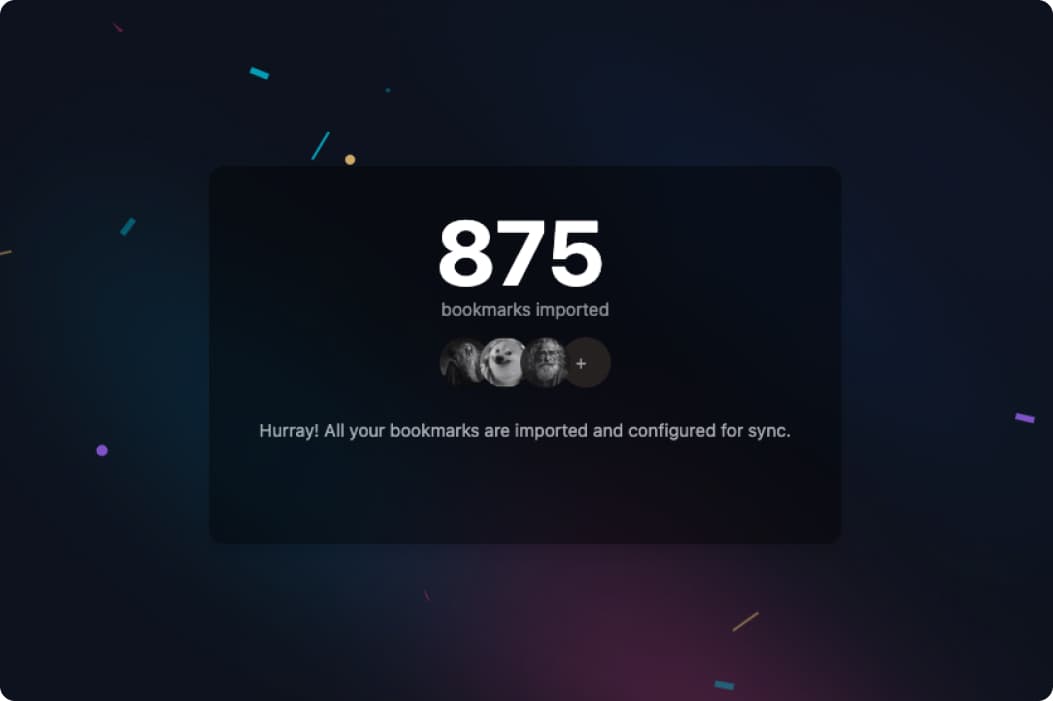 3. Integrate Notion with Tweetsmash
Head to the Integrations - Sync page.
Toggle the Notion integration to ON.
A Notion authorization popup will appear. Follow the on-screen instructions. Make sure you select 'Use a templated provided by this developer' and click 'Allow Access' when Notion prompted.
4. Export Bookmarks to Notion
Once integration is complete, Tweetsmash will begin the export process.
Wait for about 2 minutes.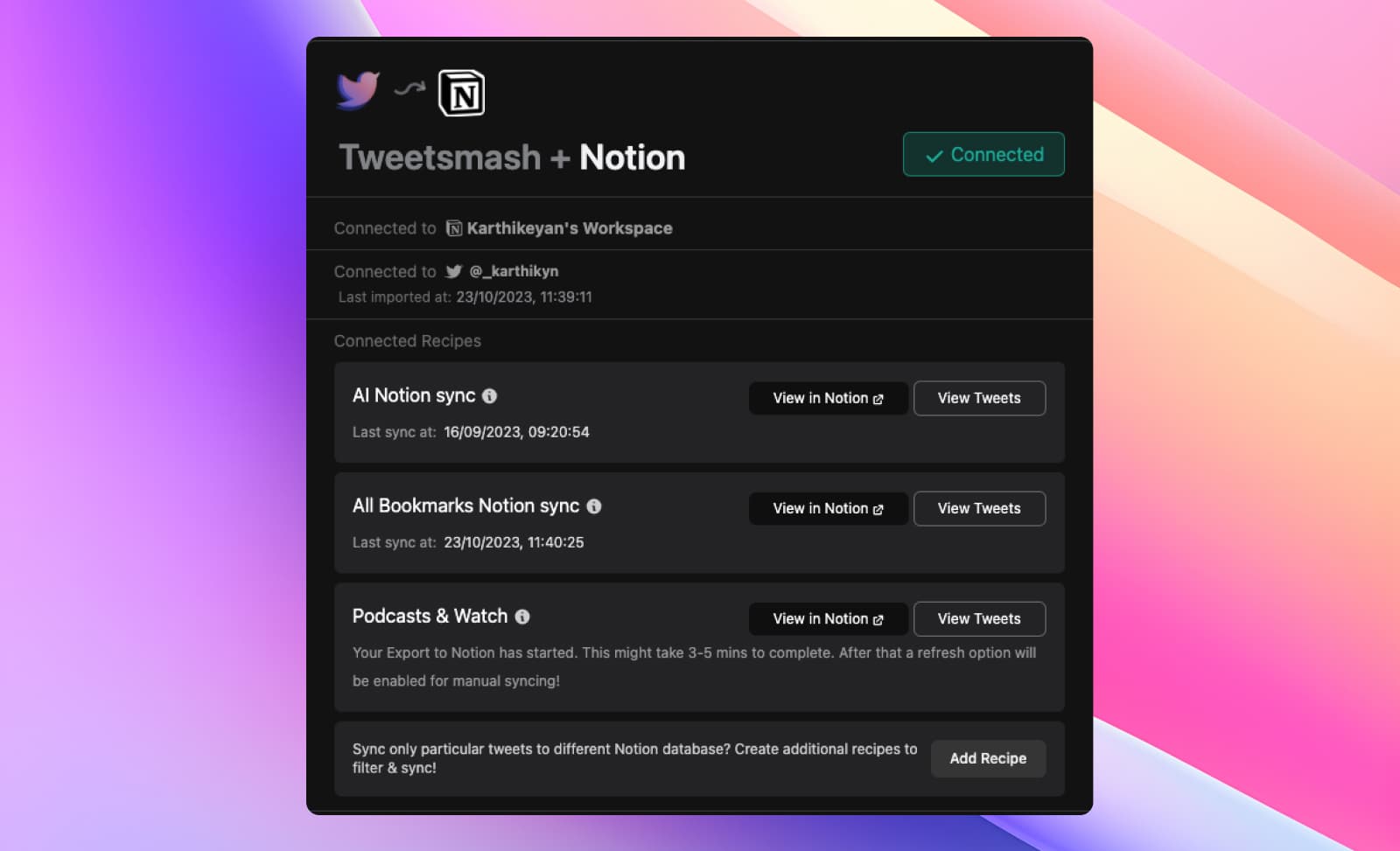 5. Review the Exported Bookmarks in Notion
Navigate to Tweetsmash's Notion Page and click on 'View in Notion'.
Your bookmarks won't just be simple links; they are thorough exports. Tweets within threads are fully unrolled, media elements are included, and replies from the same conversation are systematically grouped together. This ensures a comprehensive and enriched data export, directly into the designated Notion database.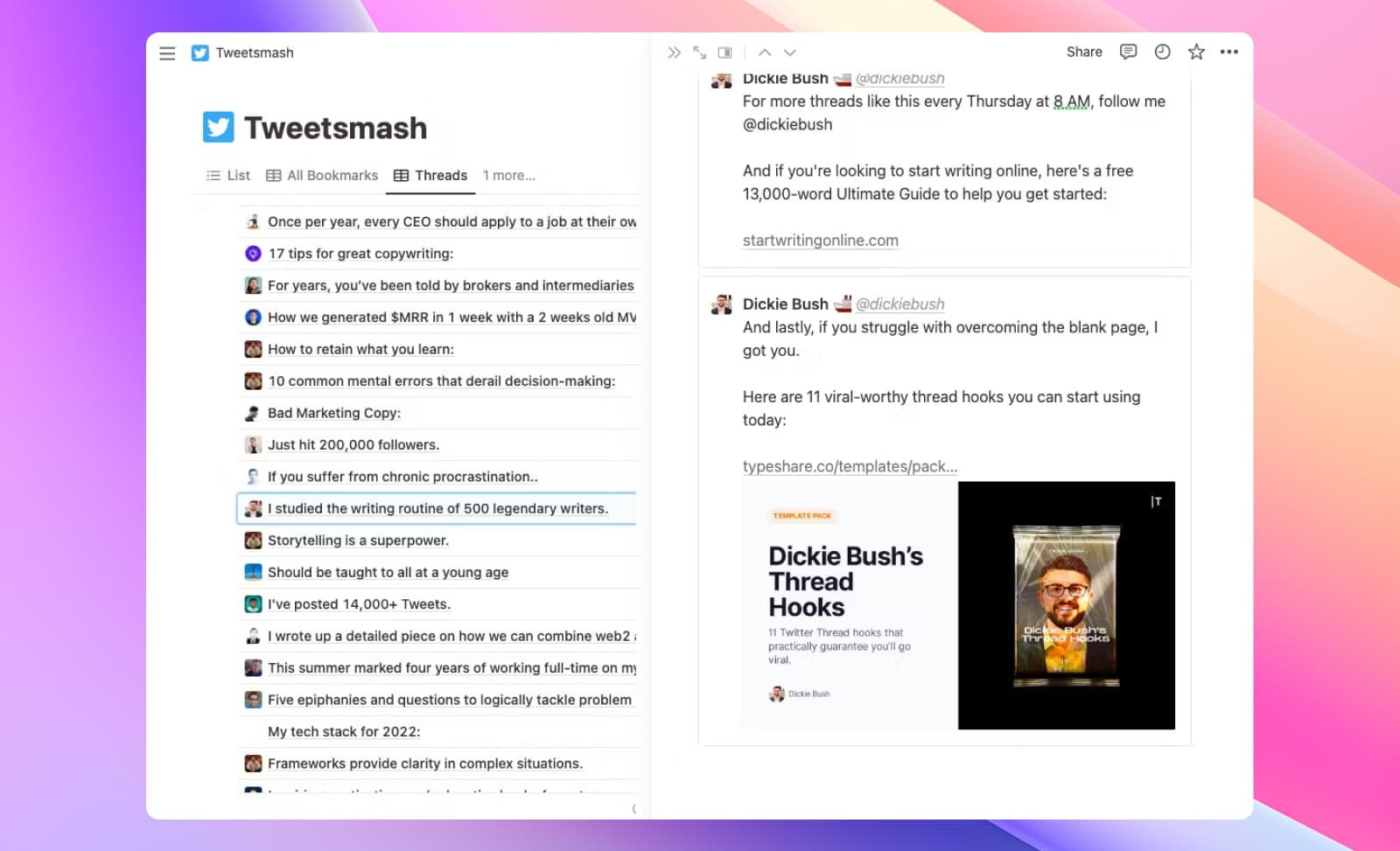 Auto-Sync Enabled by Default
No more manual copy & paste. All future or new Twitter bookmarks will be automatically imported into Notion, ensuring your database remains consistently updated.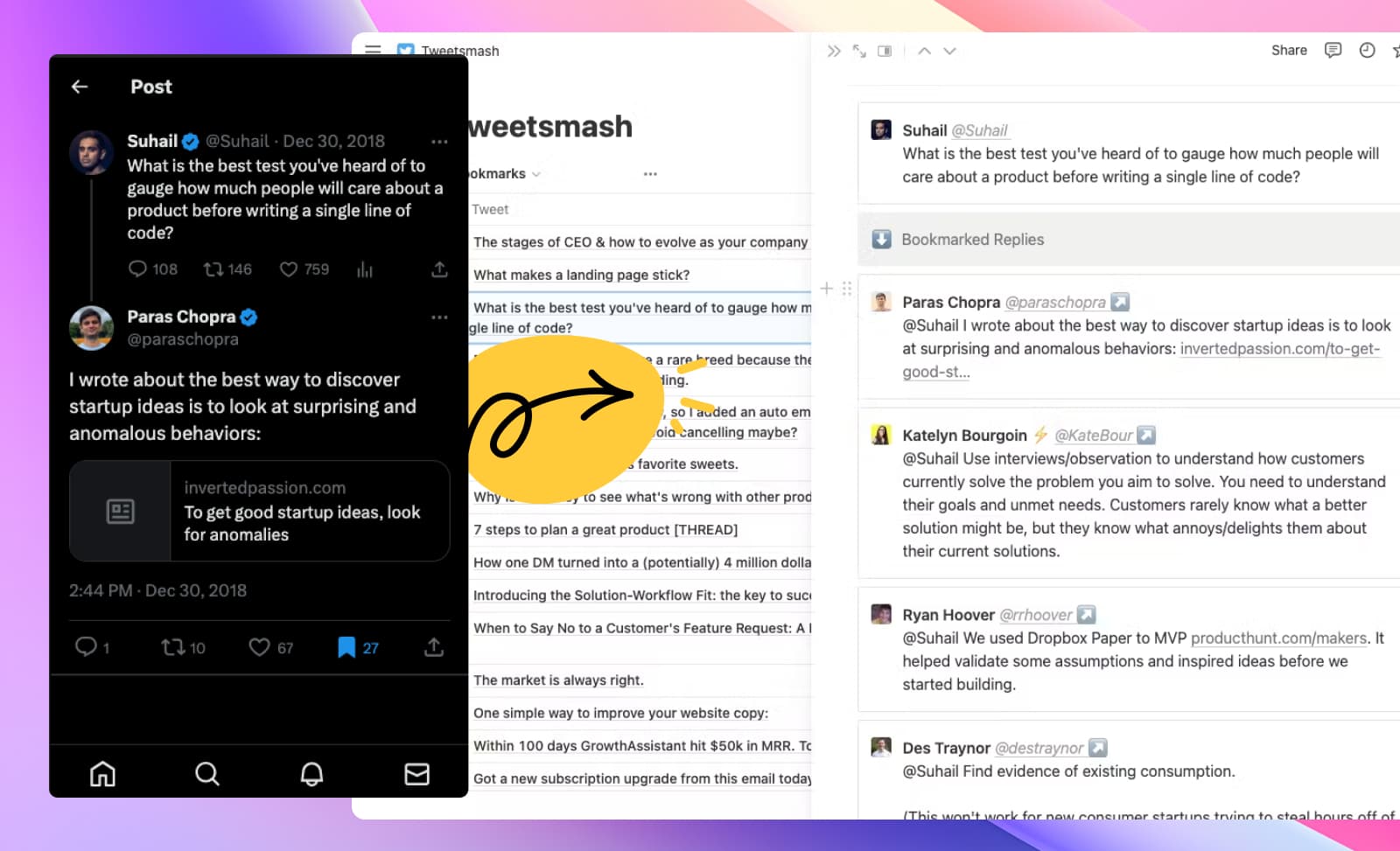 Advanced Feature Highlight: Smart Folder Integration
For content curators and specialists like newsletter creators, the depth of organization becomes crucial. Enter, the Smart Folder Integration, specifically designed to elevate your content categorization.
Use Case: Newsletter Creator – Alex Turner
Alex runs a weekly newsletter, "AI Chronicles," highlighting the newest advancements in Artificial Intelligence. He uses Twitter as his primary source for up-to-the-minute developments.
Without Smart Folder Integration: Alex's bookmarks are a disorganized mix. He loses valuable time sifting through all of them each week to curate his newsletter.
With Smart Folder Integration:

Author Grouping: Alex can sort bookmarks by AI thought leaders. Tweets from specific experts automatically get categorized under custom Notion databases.
Keyword Filter: Bookmarked tweets with terms like "AI," "GPT," or particular technologies "Llama" are automatically funneled into their dedicated folders.
Combining Multiple Tags: A single tweet covering multiple topics gets sorted into all relevant categories, ensuring Alex doesn't overlook multifaceted insights.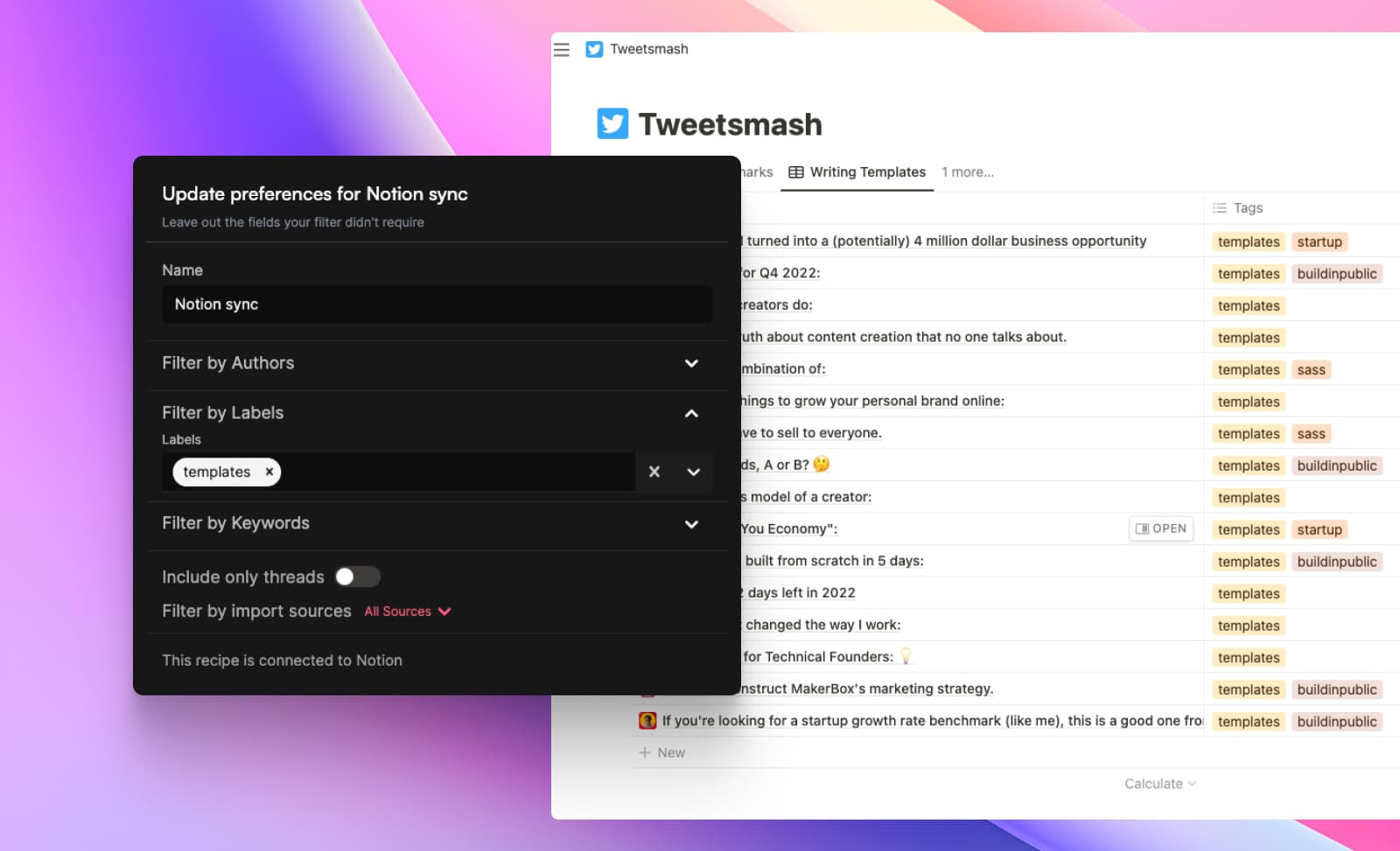 Benefits:
Streamlined Curation: Alex now has a well-organized archive, making his weekly curation process smoother.
Theme-Based Editions: With neatly categorized content, Alex crafts newsletters focused on specific AI topics, providing more value to his readers.
Collaboration Boost: If Alex collaborates with an expert in "Machine Learning," he can grant them access to just that Notion database, enabling efficient joint editions.
Conclusion
In the bustling digital age, optimizing content organization is paramount. With Tweetsmash's seamless integration and advanced features like Smart Folder, content creators and curators are now empowered to manage and retrieve information effortlessly, ensuring that every tweet and insight is always within reach.